Washington's favorite taco spot
We're celebrating over 60 years of passion for fresh, delicious Mexican food. Locally grown, locally loved, and made with care every day. Just follow the cactus.
Exceeding expectations since 1962
Frank Tonkin Sr. opened the first Taco Time Northwest over 60 years ago with the goal of becoming a leader in quick service Mexican restaurants. His strategy: quality food served by caring people who go out of their way to exceed expectations.
A Pacific Northwest institution
That strategy worked. Today, Taco Time Northwest is a pillar of the PNW, with 77 restaurants located throughout Western Washington and a fourth-generation Tonkin family legacy of continually serving our communities.
And in case you were wondering…
Taco Time Northwest is wholly independent from Kahala Corporation, which owns the rights to Taco Time outside of Western Washington. Except for the Taco Time restaurants located in Wenatchee, we have no affiliation!
60 Years and Counting
A lot can happen in six decades. Discover a few of our most iconic moments.
First location
The original Taco Time Northwest restaurant opened in White Center in 1962. It still exists today — with a few upgrades, of course.
First drive-thru
After our first restaurant opened, we unveiled our first drive-thru in 1978. What's common for quick service restaurants today was a huge innovation then.
100% all-white chicken
We were one of the first to introduce 100% all-white chicken as a menu option — it's now standard across our menu.
Our 75th restaurant
In 2005, we opened the doors to our 75th location in Sequim.
Compostable packaging
Our composting initiatives started in 2012. Today, 98% of the waste from our dining rooms are totally compostable — and over 70% of all restaurant waste is diverted from landfills.
400 millionth guest
In 2014, you celebrated serving our region's favorite fresh Mexican food to our 400,000,000th guest.
Celebrating 60 years
More than six decades, 35 thousand employees, and a whole lot of Crisp Burritos later, we're proud to say Taco Time Northwest is still going strong.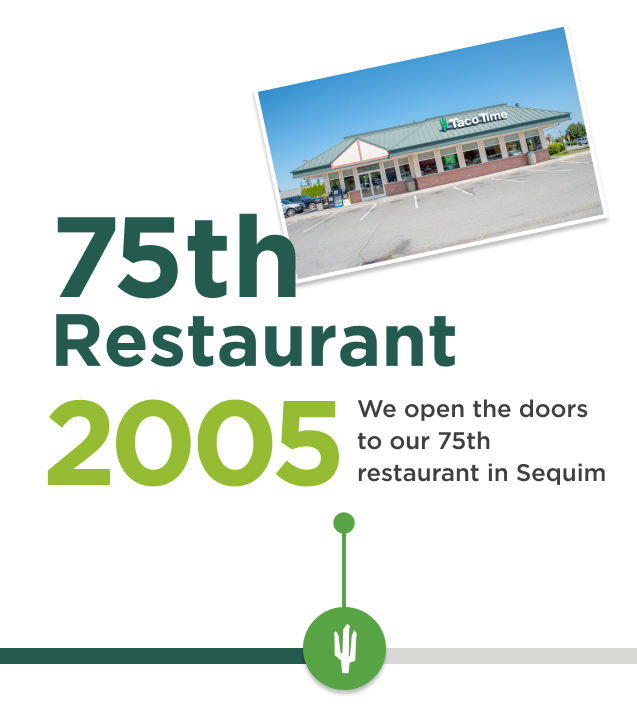 A YEAR of fresh eats
Our incredible team members prep the food you love from scratch right in our restaurants every day. Food doesn't get fresher than this.
1.2 Million
heads of lettuce shredded
2.6 Million
tomatoes sliced
600 Thousand
pounds of cheese grated
3 Million
Crisp Burritos ordered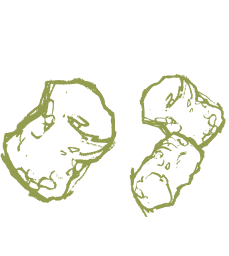 140 Million
Tater-Fries
®

dished up
12 Million
guests served
Meet The Tonkins
Robby & Chris Tonkin, our co-presidents, are fourth-generation Tonkins — that's right, Taco Time Northwest has been family-owned and operated for over 60 years (and counting).
Sustainability
Investing in our communities
We believe our region and its resources should thrive for generations to come. We're doing our part, from renewable energy and compostable packaging to local partnerships and more.
Our commitment
Join Our team
We treat people right
Over the past 60 years, we're proud to have employed over 35,000 people throughout Washington State — many who have stayed as members of our team for years.
Open roles